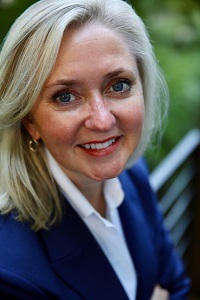 Now that I'm a couple of months into the role of Vice President and General Manager for Mental Health First Aid (MHFA) USA, I want to thank you all for the warm welcome. We're on the cusp of a new chapter for MHFA, and I could not be more excited to be here at this exciting juncture.
Our aim is to take make MHFA a household name, as recognizable and relied upon as physical First Aid or CPR. To do that, we need three things:
The highest quality evidence-based content: I first learned about MHFA in my previous role, where I was fortunate to work on projects both with the National Council for Mental Wellbeing and with MHFA England. Both opportunities helped me see how powerful MHFA is. I've been working with learning content in the health care space for quite some time, and the results of this training – the fact that it genuinely changes behavior – are exceptional. Our research partners in Australia and at Johns Hopkins University School of Public Health have helped us understand specific behavioral outcomes. Equally as important, the stories of Instructors and participants across the country show that the training helps reduce stigma and give people the skills to "see the signs and find the words" when the need arises.
Over the past year, the MHFA team has updated our Adult and Youth curricula, getting online courses to market when the COVID-19 pandemic shut down so many public spaces. The new curriculum positions First Aiders to address the mental health crises created by the pandemic. New content covers trauma, self-care, resilience, wellness and substance use. There is so much more to come from our Curricula Research and Content teams!
Our network of outstanding, passionate Instructors: I recently had the privilege of speaking with some of our National Trainers and Instructors and hearing their stories and "MHFA moments." I am so impressed by their skill and dedication to bringing MHFA to their communities!
During the 15+ months of lockdown, thousands of Instructors logged on to earn their virtual certification so they could continue to teach people in their communities – in an online setting – how to help each other during these physically distanced times. Inevitably, responding to such a quick and historic pivot to the online setting led to technical challenges for everyone. I am grateful to you for your patience and to our Instructor Training and Customer Support teams, who remained dedicated to your success every day.
In the end, we trained more than 2.5 million Americans in MHFA – over 188,000 in the blended and virtual formats since last March: lessons learned and accomplishments worth celebrating.
Scalable, easy-to-use technology: My pledge to Instructors is that we will help make your jobs easier. For 20 years I've been working at the intersection of online learning and health care – the last seven of which were meaningfully focused on mental health. Specifically, I've lead teams that designed blended learning curricula, built and launched online learning platforms, took those programs to market and supported instructors and clients as they implemented and delivered programs both online and in person. This summer, MHFA USA is working on some fundamental technology updates to improve your experience and set us all up for sustainable growth.
The foundation for this new era of MHFA – content, Instructors and technology — is moving into place. I am honored and grateful to have a hands-on role in this effort, so more people have the tools to reach out when a friend, neighbor or family member is experiencing a mental health or substance use challenge.