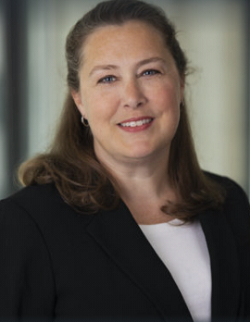 There's more to being trauma-informed than training. Just ask Elizabeth Guroff, MA, LCMFT, director of trauma-informed services for the National Council. With more than 25 years' experience as a clinician and administrator in the mental health and substance use treatment field, Elizabeth brings considerable insight to her role at the National Council. In this interview, she talks about her journey, the nuances of trauma-informed care and the humbling experience of helping others.
---
Tell us a little bit about yourself. How did you arrive at the National Council?
Professionally, I'm a marriage and family therapist, and I've worked in the mental health and substance use treatment field on the provider side for most of my career. I also dabbled in the insurance provider world for a few years before serving as chief operating officer (COO) for Cornerstone Montgomery, a National Council member. Part of my job as COO was to help merge two small companies and create a unifying identity. I worked with Karen Johnson, another trauma-informed consultant at the National Council, to help me transform the culture. Later on, when the National Council team expanded and a job opened up, I jumped at the opportunity. I was able to bring my experience from the field to the team, like putting policies and processes in place from a C-suite perspective, managing transformation and staff goals, and sharing my clinical viewpoints. It's hard to believe I've been here for three years!
What is your area of expertise as a National Council consultant?
As a consultant, I work in the trauma-informed, resilience-oriented care (TIROC) practice area. I take the lead on TIROC supervision. Many people believe trauma-informed care is just about trauma-specific services, but that's only half of what we do as consultants. Being trauma-informed is also about creating an organizational culture perspective. It involves how we interact with the people we meet – from our staff and clients to the drivers who deliver our food. Trauma-informed care is for everyone because it's about everyone. It's about a set of principles being embedded in all that we do, not a specific intervention.
How important is culture change when it comes to trauma-informed care?
It's very important. What the trauma-informed care portfolio provides isn't just about how trauma impacts people. It's also about how to make sustainable culture change that embodies the principles into our policies and procedures, outcomes and relationships. This quote from Dr. Sandra Bloom, a trauma expert and author, sums it up well: 'Trying to implement trauma-specific clinical practices without first implementing trauma-informed organizational culture change is like throwing seeds on dry land.' We need to address culture transformation before we try to implement clinical interventions.
What would some people be surprised to learn about trauma-informed care?
Probably that being trauma-informed is a journey and not a one-and-done training. It's a process of continually striving to incorporate the principles into our actions. I get to help people on their journey. I show them how to incorporate their learning into everything they do, including how to build a TIROC culture, which includes creating safe spaces and addressing safety – emotional and psychological safety with oneself, social safety with others, moral safety and physical safety. Understanding moral injury and creating a safe space for people to talk about it and come to a healthy resolution is essential.
What do you love most about your job?
I love the people I work with and helping individuals in need. I'm very humbled to be part of a team supporting our public health officials – especially during the COVID-19 pandemic – and I cherish the relationships I've built with our clients. As consultants, we get to watch people arrive at those 'a-ha moments' and make a difference for their staff and clients. I also enjoy the breadth of clients we work with – from insurance companies and large health care organizations to smaller organizations just trying to do better.
Is there one experience that sums up your appreciation for the work you do?
There are so many! For example, before COVID-19 hit, I was working with the Akwesasne Mohawk Indian tribe on their reservation, training them in trauma-informed care. I remember driving around and seeing how they lived, what they survived. Knowing what they've gone through and being able to offer some form of help was a very, very humbling experience.
What do you enjoy doing when you're not working?
I'm a mother of four boys, so there's always something going on. My youngest is in high school right now, and my other children are out there living their best lives. I thought I would be bored with everyone gone, so I decided to run for – and got elected to – my town's council. That, along with a lot of extra little things, has kept me busy! Also, I tried pottery during the pandemic, and I really enjoy dancing and cooking.
Guest Author
Nicholas Thomas
Director of Content Marketing
National Council for Mental Wellbeing