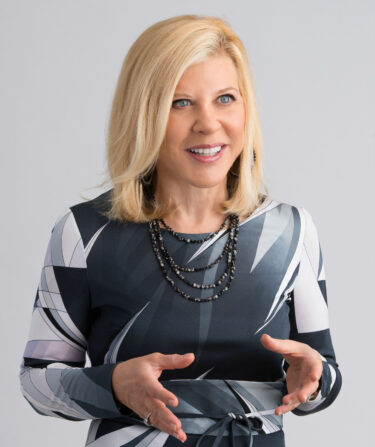 Robin Koval
Social Change Marketing Expert,

Robin Koval is the CEO and President of Truth Initiative, the national public health organization dedicated to achieving a culture where all youth and young adults reject tobacco.
A leader in the world of advertising and marketing and a New York Times best-selling author, Koval joined the organization in 2013. She led a comprehensive planning, restructuring and rebranding effort to focus the organization's world-class public education, research and activism programs to speak, seek and spread the truth about tobacco. Recognizing changes in the media landscape, the tobacco industry and the forces shaping youth behavior, Koval re-launched the award-winning and lifesaving truth® youth tobacco prevention campaign in 2014. The truth "Finish It" effort is the winner of numerous advertising, PR and marketing research awards, including four Effies recognizing it's success enlisting Generation Z to use new channels of media and communications to spread their influence and become the generation that finishes the tobacco epidemic. More importantly, youth cigarette smoking rates are now at an all-time low of seven percent!
Koval has deep roots in advertising and marketing. A co-founder and CEO of the Kaplan Thaler Group, she grew that company from a fledgling start-up in 1997 to a billion-dollar agency responsible for creating memorable and cherished campaigns for clients including Procter & Gamble, Pfizer and Aflac. She led the agency through its integration with Publicis and was named CEO of Publicis Kaplan Thaler, which she led until joining Truth Initiative.
Koval has a long track record of developing pro-social campaigns and counseling cause-related clients and organizations, including the Girl Scouts' award-winning campaign "Girls Go Tech," to encourage girls to stay involved in math, science and technology. She encouraged parents to speak early to their children and young teens about the risks of underage drinking and supported initiatives for the Make-A-Wish Foundation and the American Red Cross, among others.
Named one of Advertising Age's "Most Influential Women in Advertising," Koval has led multiple PR News Platinum Hall of Fame campaigns. She has been recognized by New York Women in Communications' with their prestigious "Matrix Award," and has received Women's Venture Fund's "Highest Leaf Award," Women's Leadership Exchange's "Compass Award" and the Advertising Women of New York's "Working Mothers of the Year Trailblazer Award." Koval has also been named one of Self-Made Magazine's "50 Women Entrepreneurs Who Inspire Us."
Koval is a best-selling author. She and Linda Kaplan Thaler are co-authors of The Power of Nice: How to Conquer the Business World with Kindness; The Power of Small: Why Little Things Make All the Difference and Bang! Getting Your Message Heard in a Noisy World, and their most recent, Grit To Great: How Perseverance, Passion, and Pluck Take You from Ordinary to Extraordinary.
A sought-after expert on advertising, media, youth culture and tobacco control, Koval has appeared on network television programs, including ABC's "Good Morning America" and "Nightline" and NBC's "Today." Koval also regularly contributes commentary and insights for numerous print and online outlets and speaks to business, government and media audiences at conferences and colloquia around the world.
Koval earned a Bachelor of Fine Arts degree from Syracuse University and a Master of Business Administration from New York City's Baruch College. She serves on the board of directors of Partnership With Children, a nonprofit organization that delivers social and emotional learning support to troubled and underserved children in the New York City school system. She has also served as an adjunct professor at New York University's Steinhardt School of Culture, Education and Human Development.