TAKE ACTION TO EXPAND AND SUSTAIN CCBHCs
Since the passage of the 2014 law creating the two-year, eight-state CCBHC Medicaid demonstration, Congress has extended the program numerous times, added new states to the demonstration, and enacted a supplementary grant fund available to demonstration sites and new CCBHCs throughout the U.S. Today, there are more than 430 CCBHCs in 42 states, plus Washington, D.C. and Guam. But CCBHC expansion grants begin to expire in 2022, followed by the end of the demonstration program funding in 2023. Hundreds of CCBHCs risk losing their funding without immediate action.
Right now, Congress has a chance to take bold action by passing the Excellence in Mental Health and Addiction Treatment Act of 2021, legislation to expand the program so that every state has the option of joining the demonstration program and existing CCBHCs remain funded.
Despite this progress, challenges remain. Only those CCBHCs participating in the Medicaid demonstration are eligible for the prospective payment rate that offers a truly sustainable financing mechanism to support their operations. The demonstration is currently slated to end September 30, 2023. Meanwhile, CCBHC expansion grantees risk losing their funding every two years as their grants expire. And behavioral health providers in many communities that are poised and ready to adopt the model have not yet been given the opportunity to participate.
The National Council for Mental Wellbeing is committed to expanding CCBHCs nationwide, with Medicaid prospective payment available to all CCBHCs. As a first step, we are working side by side with clinics, state and federal policymakers and advocates across the nation to open the doors to CCBHC status for 500 organizations by 2025.
Contact us with any questions or to request support.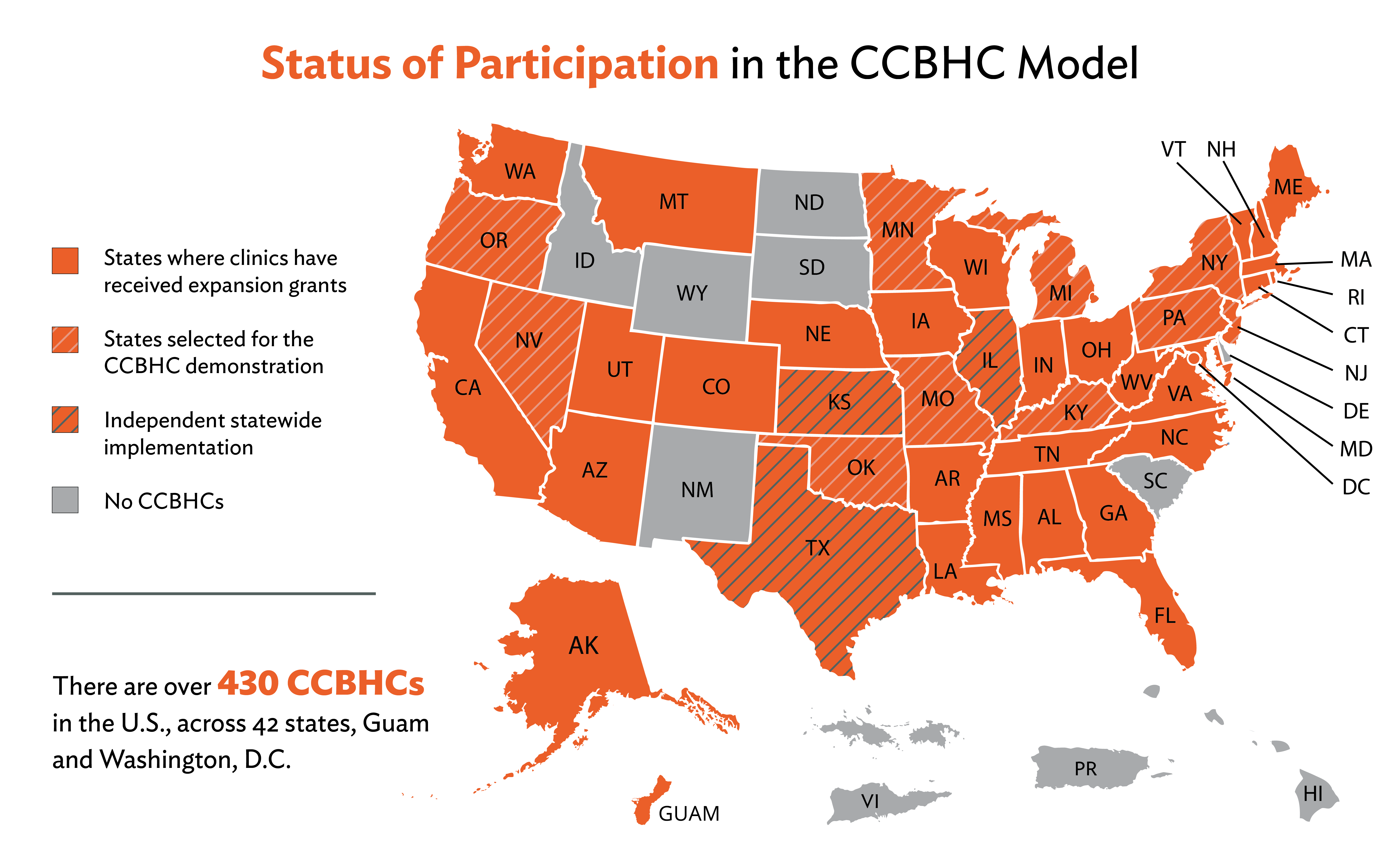 Federal Legislation and Appropriations
The Excellence in Mental Health and Addiction Treatment Act of 2021 – bipartisan legislation to extend and expand the CCBHC Medicaid demonstration – was reintroduced in the 117th Congress in June 2021. The legislation would allow every state the option of joining the CCBHC Medicaid demonstration and authorize investments in the model for current and prospective CCBHCs. Each year since 2018, Congress has also appropriated funds for CCBHC Expansion Grants, a complement to the CCBHC Medicaid demonstration. Learn more about the difference between the CCBHC funding streams.
Sign up for our Action Alerts to be notified of opportunities to advocate for CCBHCs
Looking for other ways to get involved? Let us know!
State Policies and Opportunities
States do not have to wait for Congress to extend the Medicaid demonstration; opportunities to implement CCBHCs are available through existing Medicaid waiver and State Plan Amendment (SPA) authorities. The National Council offers strategic advice, information and technical assistance to stakeholders interested in pursuing statewide implementation of CCBHCs as a value-based, alternative payment model to transform the treatment system. Please visit our CCBHC Implementation Support page or contact us.