In collaboration with a team of national experts, the National Council for Mental Wellbeing launched CONNECTED, a two learning community aimed at reducing youth anxiety, depression and suicide in underserved communities. From 2018 to 2021, five community-based organizations and twenty courageous youth with lived experience partnered to design and create their own strategies to improve access to inclusive and responsive mental health supports. While inspiring change and making a difference in their communities, the national CONNECTED cohort convened regularly to learn from each other, the national CONNECTED partner team and other thought leaders.
Meet the CONNECTED Communities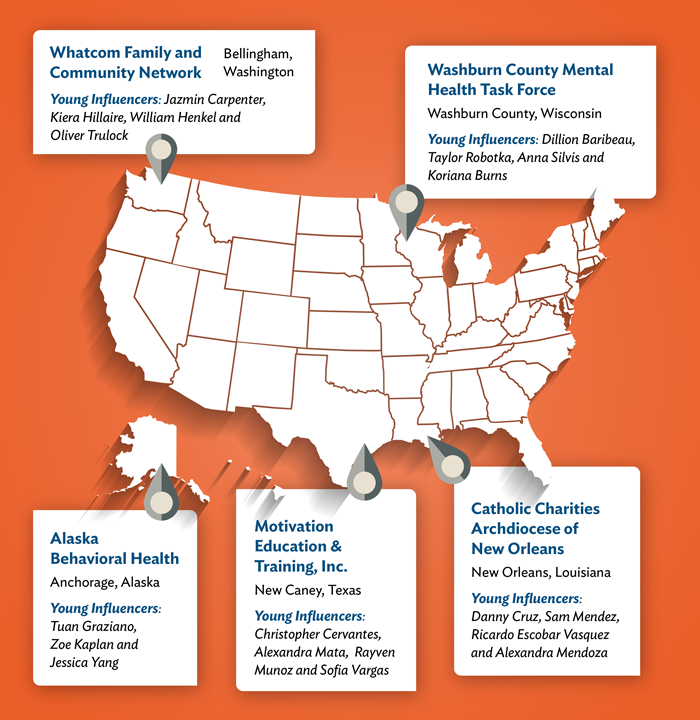 CONNECTED Key Drivers of Change
Integrated within the learning community was a comprehensive, multi-level evaluation led by Michigan Public Health Institute. The evaluation was grounded in community-based participatory research methods that sought to harness the collective knowledge and experiences of CONNECTED communities and identify the key drivers of change. Four main themes emerged from the evaluation representing the drivers of positive change in support of youth mental wellbeing.
Youth Voice: Elevating the voices of youth with lived experience requires deep personal work involving changing hearts, minds and beliefs. It requires developing authentic relationships that transcend preconceived notions of 'professional' partnerships by exploring new roles, boundaries and practices.
Community-based Partnerships: Community-based partnerships play a critical role in ensuring youth have pathways to the support they need when they need it. Community-based organizations can help youth navigate systems of care by partnering with other local resources to create networks of supports that meet youth where they are at.
Leadership Development: When youth and adults partner to enact positive change in their communities, they mutually grow and develop as leaders. Understanding personal leadership strengths and styles, clearly communicating personal preferences and boundaries and listening to learn instead of listening to speak are all fundamental to effective youth-adult partnerships for positive change.
Access to Mental Health Care and Supports: Broadening our understanding of 'youth access to care' and 'youth mental wellbeing' can reveal new and inclusive ways youth are leveraging community-based resources to support their mental health (e.g., artistic or religious activities and groups, social media and other virtual platforms, and individual relationships with authentic and trusted adults).
Meet the CONNECTED National Partner Team
Change Matrix
Change Matrix is a female-owned, minority-owned small business of change specialists that brings together a wide range of experiences, knowledge and ideas to creatively and productively meet the needs of children and families. Change Matrix has expertise in specific frameworks such as Systems of Care, A Public Health Approach to Mental Health, A Trauma-informed Approach, Restorative Practices and An Adaptive Approach to Leadership and Change.

Michigan Public Health Institute
MPHI's Center for Healthy Communities works collaboratively with partners to transform public health systems and improve the health of communities through assessment, evaluation and continuous quality improvement. They use a community-based participatory approach to projects and offer expertise in a wide variety of services such as conceptualization, design, data collection and management, data analyses and facilitation and planning.

National Council for Mental Wellbeing
The National Council for Mental Wellbeing is a membership organization that drives policy and social change on behalf of nearly 3,500 mental health and substance use treatment organizations and the more than 1 million children, adults and families they serve. We advocate for policies to ensure equitable access to high-quality services. We build the capacity of mental health and substance use organizations. And we promote greater understanding of mental wellbeing as a core component of comprehensive health and health care.

Relias
Relias offers an online platform that employs performance metrics and assessments to reveal specific gaps in knowledge and addresses them with personalized, engaging learning. Relias' robust library of online courses helps organizations build knowledge and skills in areas that are important to them.
Watauga Consulting
Watauga Consulting provides "best in class" consulting, training and coaching to help courageous organizations achieve leadership, management and workforce excellence and prepare for big transformations. Watauga Consulting excels in leadership and management development, change management, employee engagement, organizational and system redesign, needs assessment and strategic planning.

Youth MOVE National
Youth MOVE National is a youth-driven, chapter-based organization dedicated to improving services and systems that support positive growth and development by uniting the voices of individuals who have lived experience in various systems—including mental health, juvenile justice, education and child welfare. Youth MOVE National advocates for youth rights and voice in mental health and the other systems that serve them to empower them to be equal partners in the process of change.
Meet the Youth Consultants

Annie Stafford
Annie Stafford is a certified peer specialist and works in various capacities within the mental health field, such as facilitating trainings for mental health workers, participating in speaking engagements to share her story and serving as co-director of her and her mother's non-profit organization, Tend to Hope. Annie is eager to be a part of tangible change within the mental health system and hopes to utilize her lived experience to act as an educator and advocate for mental health reform.

John Dellick
John Dellick lives in Cleveland, OH and has a passion for serving others. He has been involved in creating change in youth serving systems since 2018. In his free time, he enjoys playing basketball or beach volleyball with friends and spending time with his family.

Joshua Calarino
Joshua Calarino works as a Youth Program Specialist at Youth MOVE National where he can do what he loves and promote youth voice. Joshua has many interests but most of all he likes to travel. He believes that traveling is the best way to grow as a person. Joshua is from Miami, Florida, where he was born and raised, so that is deeply set into who he is.

Yesica Chavez
Yesica is a first-generation graduate from the University of Colorado with a bachelor's in psychology and ethnic studies. She is an advocate of mental health especially since in her culture, mental health carries a stigma. She believes that everyone should have access to mental health.
This website was created as a part of CONNECTED, a two-year initiative aimed at reducing youth anxiety, depression and suicide in underserved communities through meaningful youth-adult partnerships. CONNECTED was made possible by funding from a private venture philanthropist and strategic partnerships with Change Matrix, Michigan Public Health Institute, Relias, Watauga Consulting, and Youth MOVE National. For questions, please contact Julia Schreiber at JuliaS@TheNationalCouncil.org.