Planning and Acting
For All Change Makers
The path from dreams to success does exist. May you have the vision to find it, the courage to get on to it and the perseverance to follow it.

Kalpana Chawla
Identify the Problem
"Nothing about us without us"
Trusting, meaningful, effective youth-adult partnership enables enriching conversation that can delve into the reality of youth experience. Remember that youth are experts at the table and that inviting and supporting youth leadership at every level is a means to a truer understanding of the challenge and possible solutions.
Threats to youth mental wellbeing and inequities in access to care are rooted in systemic oppression and exclusion. Multicultural leadership, representing age, racial, ethnic, gender, ability, sexual and linguistic diversity must be present and ready to discuss topics that may be emotionally challenging, but are critical. Vulnerability, transparency and mutual support are crucial in these conversations.
On the road to identifying a shared vision, a first step is getting on the same page about perception and perspective across stakeholders, youth and adults. Perception and perspective often emerge in conversations about the language we use and the assumptions we make. Ask grounding questions including:
What do we mean by mental wellness? What are the gaps in serving youth in our community?
When we talk about "access to care," what does the word "access" mean?
How do we know when young people have "access" to the care they need?
Does "access" mean something different for different groups of young people? What does it mean for young people in our community?
What do we know about barriers to accessing care in our community? What don't we know?
How do we define mental health supports?
How have we (tried to) increased mental health supports in our community?
These discussions can illuminate what needs to change and the collective motivation to contribute to change.
Develop a Vision
People need to know where they're going, especially during times of change. Successful change demands a clear vision that you can articulate often.
Make it real, visible, compelling and repeat it every time you describe or discuss the change.
What is the vision for your change?
Your Vision Statement
Great leaders inspire action in others, but how?
In Simon Sinek's TEDx Puget Sound Talk on "How Great Leaders Inspire Action," he describes how framing your purpose can lead others to action. Rather than describing what you do or how you are doing it, start with why you are doing it.
Use the following questions for a group discussion about your shared purpose. You may wish to start with individual reflection before group discussion.
Why are you motivated to do what you do?
Why is this work important to you and to others?
Why does your group or organization exist?
Why do you get out of bed in the morning?
Why should more people care about your mission?
From there…
Discuss your vision for the ideal state of your community and the people you aim to support. Think about what you what you want to achieve by asking:
Why are we changing? How will things be different for our population of focus?
Why are we changing now? What feels urgent about this?
What will this look like in one year? In five years?
Finally… Compile your purpose and vision into a few sentences, your vision statement. Use it to drive your team forward, serve as a collective reminder of your ultimate goal and inspire others to support and join your cause. A strong vision blends these key elements: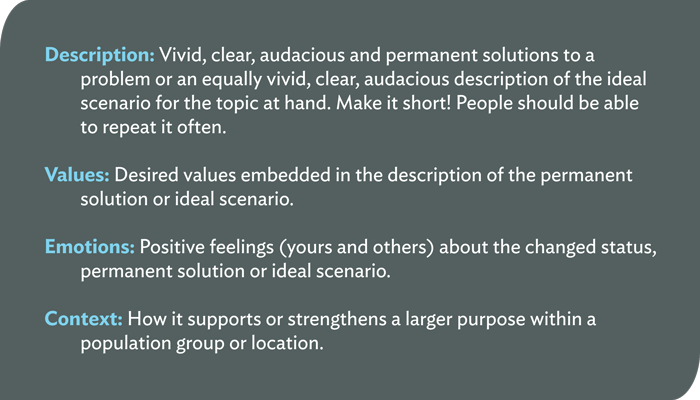 When creating a shared vision, amplify voices that are historically underrepresented. Partner with allies who can support your cause and involve those voices in meaningful, appropriate ways early in the process and ensure the language you use is inclusive of all at the table. Create an environment of language justice where everyone is able to speak the language that is most comfortable for them. Search for translation and/or interpretation services online to find them nationally or in your local area.
Interpretation
Translating spoken word orally.
Translation
Conveying written word in a different language.
If you are part of an agency, a strong, inspiring and concise vision will honor and respectfully capitalize on the power and priorities of senior and/or executive leadership.
Vision Tree Exercise

This Vision Tree Exercise is a fun, creative and heart-centered way to bring values and goals together in a group.
Create Goals and Objectives
Your goals are the roadmap that guide you.

Les Brown
Creating a plan with clear goals and objectives will pave the way toward achieving your vision. Here, we explore ways to shift dreaming and learning into action, from framing your learning, to understanding your strengths and barriers, all the way to creating actionable and measurable goals.
Success needs to shift from achieving pre-determined results on a pre-determined path to showing capacity to set and achieve results that are intentional in changing environments.
Framing questions can help you determine actionable changes based on insight, observations, knowledge, data and a hypothesis.1
What would it take to create an authentic youth-adult partnership so that we are working effectively to support youth groups?
What would it take to move our youth groups online so that youth in our community continue to have access to support?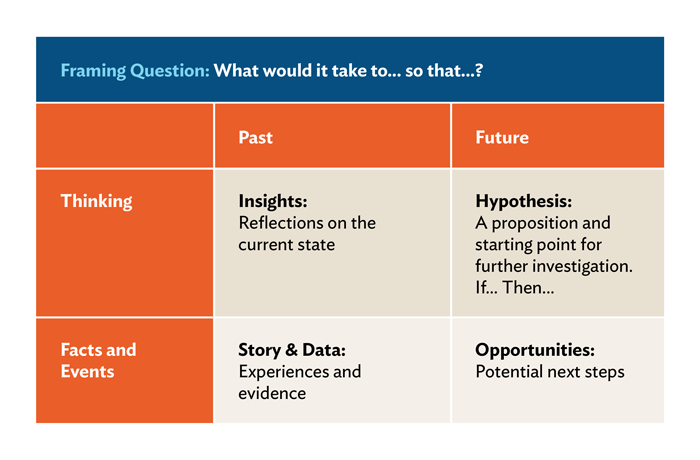 These exercises can help you better understand the experience of young people in your community.
Empathy Map

What It Is: An empathy map is a collaboratively developed visualization used to articulate the needs and actions of a client or participant. It is a fast and effective way to identify young people's pains and gains.
When to Use It: This can be done at the beginning of a project or at any points when you need to re-focus on young people.
What It Provides: This information will pull together your group's collective knowledge on young people to create a shared understanding of their needs and aid in decision-making and design. Empathy maps visualize young people's needs, condense data into a brief chart and help you consider what young people want — not what you think they want. Empower the voices of youth and marginalized peoples by ensuring full representation in this process, listening, recording and acting upon valuable insights.

Learn More: IDEO's brief step-by-step guide to facilitating Empathy Mapping
Create a Journey Map

What It Is: A journey map visualizes a client's experience over time with a product or service.
When to Use It: A journey map can be used for pretty much any situation where you want to understand and design around the client or participant experience. Examples include mapping out a client's experience during intake at a new clinic, exploring current care pathways for improvement or a new staff onboarding process.
What It Provides: A journey map helps you think systematically through the steps people have when interacting with a product or service, and thus where changes or improvements could be made. For example, patient journey mapping provides insight into the type of experiences faced by the patient during their care journey by following their experience in care through various stages and touchpoints across different providers and systems. Empower the voices of youth and marginalized peoples by ensuring full representation in this process, listening, recording and acting upon valuable insights.

Learn More: IDEO's brief step-by-step guide to facilitating journey mapping
Fish and Boulders

What It Is: Driving your vision forward can be as fun as a day on the river! The Fish and Boulder activity is designed for a group (e.g., youth, adults, other interested stakeholders) to hone a shared vision about a specific project, and collectively identify and understand strengths (fish) and potential challenges (boulders).
When to Use It: Fish and Boulders is used when you have a clear vision, but you are trying to identify where to focus your efforts.
What it Provides: The activity helps the group identify factors that are moving them toward their goals, as well as barriers they are currently encountering or expect to encounter in the future as they implement program activities.

Learn more: Michigan Public Health Institute's Fish and Boulders Facilitation Guide
Develop SMARTIE Goals and Objectives
Based on your vision and learning, develop SMARTIE goals and objectives with clear ties to organizational and group mission and goals. SMARTIE goals can help clarify focus and hold accountability; they are:
Specific: What is the goal you're trying to realize?
Measurable: How much? How often? How many?
Attainable: Is it achievable?
Relevant: Is it relevant to your ultimate vision?
Time-based: When will it happen? What is a realistic timeframe?
Inclusive: How will you include underrepresented voices and share power?
Equitable: How does it seek to address systemic injustice, inequality or oppression?
Make a Plan
Mapping out actionable steps to reach a goal.
You have a vision. You understand the change you wish to create and the people it will impact. You have clear goals. Are you ready to get technical?
A workplan is a communication tool that helps you chart your path from vision to success in concrete action steps. It will clearly identify how you will achieve your goals with:
The resources you have available.
What community partnerships will be beneficial to your goals.
Responsible parties for every element of the work.
There are many ways to develop a workplan; the key is to find the one that works for you and your team.
A workplan should be a clear and approachable resource for collective reference. We offer a few options here for you to consider and test with your group. Make them your own!
Idea Planning Worksheet

A great place to start, this comprehensive Idea Planning Worksheet provides a series of questions that walks through five steps of planning, from needs, to strategy, to capacity.
Workplan Template

Feel ready to plot your action? A simple Excel file workplan template includes categories related to action steps, time, responsibility, resources and success indicators.
Evaluate
Humans think in stories, and we try to make sense of the world by telling stories.

Yuval Noah Harari
Harvest the story within your work. Tell the story of your impact to others. Evaluation can be powerful, especially when you empower the voices of youth and underserved populations within the practice.
CONNECTED embedded participatory evaluation throughout the initiative, growing our understanding of the impact created and the capacity of organizations and youth participants to collect and analyze data for decision-making and storytelling to a variety of audiences.
What is evaluation?
Evaluation is a process for understanding how programs work and what has changed because of them. Evaluation is:
Asking questions about a program.
Collecting information to answer those questions.
Learning about what things changed for people, groups and communities because of the program.
Using what we learn to take action to make the program better in the future.
Why evaluate?
To evaluate something means to look at something (for example, a program) and judge its quality or value with quantitative and qualitative data.
QUANTITATIVE
Data in the form of number or counts. (hint: think quantity)
QUALITATIVE
Data that is heard, described or observed. (hint: think quality)
An agency might evaluate individual employees, its programs and/or the agency as a whole. When you evaluate a program, you want to know how far the program went toward achieving its goals. When you evaluate an agency or community group, you ask how well it operates to achieve its mission.
Evaluation involves collecting information that helps you make these judgments fairly and accurately. Evaluation allows you to:
Improve your program by identifying strengths and areas for improvement.
Improve your ability to plan and complete activities.
Document progress toward your goal.
Inform and improve community change efforts.
Identify unmet needs and assess impact of change efforts.
Provide evidence for effectiveness.
Report to others about how well the program worked.
Program Evaluation 101: A Reference Guide for Youth and Adult Partners
Form Partnerships
Form Community Partnerships
Individually we are one drop; but together we are an ocean.

Ryunosoke Satoro
To truly support youth mental wellbeing, including substance use challenges, communities must take a comprehensive and coordinated public, mental and social health approach to incorporate the entire sphere of youth experience. That involves going beyond the clinical setting, the school and the home and looking at organized networks of support.
Resiliency risk factors compound in effect. Social determinants of health and health and environmental inequities are complex risk factors, and one social program will not undo the risks presented by various negative pressures.
A collaborative systems approach can facilitate early intervention and prevent worsening mental wellbeing and the trauma that contributes to it. Collaborative systems create more positive touchpoints to identify issues before youth become involved in clinical or legal systems. By emphasizing social justice and celebrating diversity and trauma-informed approaches, each youth-serving organization and young person can contribute to welcoming and safe communities for healing.
This section addresses the importance of understanding your community's assets and opportunities to partner to create a web of support for young people.
Collaboration is a process of participation through which people, groups and organizations work together to achieve desired results. Collaborations accomplish shared vision, achieve positive outcomes for the audiences they serve and build an interdependent system to address issues and opportunities. Collaborations also involved the sharing of resources and responsibilities to jointly plan, implement and evaluate programs to achieve common goals. Members of the collaboration must be willing to share vision, mission, power, resources and goals.2
Community Assets Handout

Community assets help us to look at bigger changes in the community that result from small changes. Find out more in this helpful Community Assets Handout.
A guiding principle for productive partnerships: Forward momentum
Don't let perfect be the enemy of good – take action. If you wait until plan is perfect, you may never get started.
Move opportunistically, take a first step even when the path is not clearly defined. Often, partnerships start with a jumping off point, testing or piloting an idea or initiative before evolving it into something greater.
Focus on incremental changes along the way; big sweeping change can be intimidating, so take it step-by-step.
There may be failures along the way, that's okay – just be able to recognize, apologize and learn from the experience. This is where each partner's commitment to tolerate risk comes in.
Essential criteria and considerations when choosing and establishing partnerships
First steps to establishing a strong community partnership:
Identify your current partnership state – Who are your current partners? An ecomapping activity can help capture and visualize your current partnerships in your community. Read on to learn more about ecomapping.
Identify why others would want to partner with your organization: what you might achieve together, authority or influence you may have in the community, your affiliation with other groups or interests.
Identify the need or gap you are aiming to fill to better serve young people in your community. Rather than starting with who you would like to partner with, start with the problem and look to who might best fit and fill that need. Community mapping is a great tool to better understand existing resources and inadequate resources for youth in your community.

Also think about your potential partner's needs. When you reach out to that partner, approach them with an interest in providing value to them. How can you mutually serve and support one another?
Read on to learn more about community mapping.

Selecting partners:

Whether a current partner or potential partner, think about which groups have missions, goals and objectives that align with your own.

What are the values and cultures of those groups?
What experience do they bring to the table? Do your homework to understand the track record for other organizations. When you are trying to meet a need, your criteria will be their ability to deliver.
Do those groups offer stability and have a good community reputation?
Are these groups willing to develop mutual trust with you?
What are some reasons for interest in partnering with each other?
Do the partners understand the community in a culturally-informed manner?
How can this be mutually beneficial?

What if you are in an area without a wide variety of partners? How can you access additional knowledge or services to respond to community needs?

Reach out to national organizations with a mission devoted to the topic of focus to learn about potential partners in your area (e.g., the National Council for Mental Wellbeing's network of nearly 3,500 member organizations providing mental health and substance use treatment services nationwide).
You might also connect with organizations outside of your community that serve a similar population or have partnered in similar settings (e.g., rural, frontier) to learn about collaboration solutions they have implemented.

Three main elements of establishing strong partnerships:

Basic trust between the partners, which requires openness and excellent communication. Partners must be confident that they will be supported by one another.
Willingness of all partners to tolerate and share risk. You cannot anticipate internal or external challenges, so trust between partners to take on unforeseen difficulty is crucial.
Use transparent data to explore and discuss issues and manage internal and external challenges. Use factual data rather than anecdotes to drive decision-making.
Some additional do's and don'ts for building and sustaining partnerships:
DO
Enter with an open mind and an open heart.
Seek first to understand.
Have one-on-one conversations with the partner.
Explore how you can be helpful to them and talk about their needs first rather than your own.
Think about the bigger picture, look toward lifelong partnership rather than limiting to a specific project or challenge. Look to common interests that you can pursue together, rather than advancing a specific position.
Capitalize on momentum.
Have evaluative meetings to ensure partnerships are meeting goals. Have touch points to regularly evaluate the mechanics of the collaboration and whether it is meeting the need as intended.
Agree to tolerate and share risk. When failure occurs or if your partner does not live up to expectations, be willing to recognize where things did not go as planned, accept the circumstances and move forward.
DON'T
Assume anything about a partner.
Withhold information. Reveal anything helpful, encourage transparent use of data for informed shared decision-making.
Belabor the start.
Ecomapping Activity

Ecomapping is a helpful activity to understand what relationships you already have and could leverage to create pathways to care for young people. An ecomap, or stakeholder map, is a visual display of key partnerships that an organization has to accomplish its goal(s). This group activity is designed to draw out information about all your partnerships, including the level of collaboration, strength of relationship, existing conflict and direction of communication, across sectors including public, private, policy, voluntary, resource and other arenas.

Ecomapping helped one CONNECTED organization identify and explore their minor partnership with a local mental health and substance use treatment provider organization. Knowing that direct services for youth mental wellbeing and substance use were in high need, but low availability, they sought to partner more intentionally with the local mental health provider organization. This created a resource for the young people they served, a mutual referral relationship and involvement with a previously unknown local taskforce for youth mental health. What a great success in partnership to increase access to supports for youth in need!

In the Resource Library, we offer an in-depth Ecomapping Facilitation Guide to better understand your own community partnerships.
Community Mapping Activity

Co

mmunity mapping is a youth-centered activity that can help you understand where and how young people are engaging in your community. It identifies what resources and opportunities are available to youth in a community and where current community needs exist. This reveals where you could partner to fulfill an unmet need.

Community mapping can answer questions about how youth learn about resources, how they use those resources, and what changes, improvements or additions are needed to support them.

The Mapping Process:

Define the community/neighborhood area.
Define the scope of resources to be included.
Identify needs within the community.
Craft survey questions.
Map the community.
Support data entry and analysis.
Design the layout or format in which resources are presented.
Input discovered resources into existing resource directories.
Present and disseminate findings.
Advocate for increased supports to meet youths' needs.

In the Resource Library, we offer an in-depth Community Mapping Exercise to better understand your own community partnerships.
This website was created as a part of CONNECTED, a two-year initiative aimed at reducing youth anxiety, depression and suicide in underserved communities through meaningful youth-adult partnerships. CONNECTED was made possible by funding from a private venture philanthropist and strategic partnerships with Change Matrix, Michigan Public Health Institute, Relias, Watauga Consulting, and Youth MOVE National. For questions, please contact Julia Schreiber at JuliaS@TheNationalCouncil.org.