Each May, the National Council for Mental Wellbeing joins a national movement to bring attention to mental health during Mental Health Awareness Month (MHAM). To help you recognize this important observance and support those who may be experiencing a mental health or substance use challenge, as well as those in recovery, visit our MHAM directory and take advantage of the following resources:
Boost Your Knowledge Base
Want to stay informed on the mental health front? Looking for content to share with others? Explore these resources as you recognize Mental Health Awareness Month:
Get Involved Today
There's a lot you can do this Mental Health Awareness Month to show your support and help others. Here are a few opportunities for consideration:
Want to have a positive impact on the mental wellbeing of those around you? Learn how to get trained in Mental Health First Aid today!
Invest in your employees' mental wellbeing by connecting with our consultants.
Join one of our Interest Groups to increase access to care for select populations.
Make Your Voice Heard
Mental Health Awareness Month is also an opportunity to raise your voice for health care legislation that could save lives, strengthen communities and move our field forward:
Join us for Hill Day at Home 2022 – our free virtual advocacy event – on Wednesday, June 8, to hear from policy leaders, stay informed of Capitol Hill happenings and raise your voice.
Lend your voice to support critical health care policy – write to your legislator today!
Download our Advocacy Handbook to learn how to maximize your impact with tips, techniques and templates for becoming an advocate in your community.
Receive our weekly newsletter, Capitol Connector, each Friday to stay up-to-date on news related to federal mental health and substance use policy.
Explore Mental Health Awareness Month Across the Country
On April 29, the Biden Administration released "A Proclamation on National Mental Health Awareness Month, 2022," recognizing May as National Mental Health Awareness Month. The proclamation echoes the strategic plan released by the administration in March to address the ongoing mental health and substance use crises – including a call to expand trainings like Mental Health First Aid.
In addition, Governors across the country are releasing their own proclamations recognizing Mental Health Awareness Month statewide. Check them out!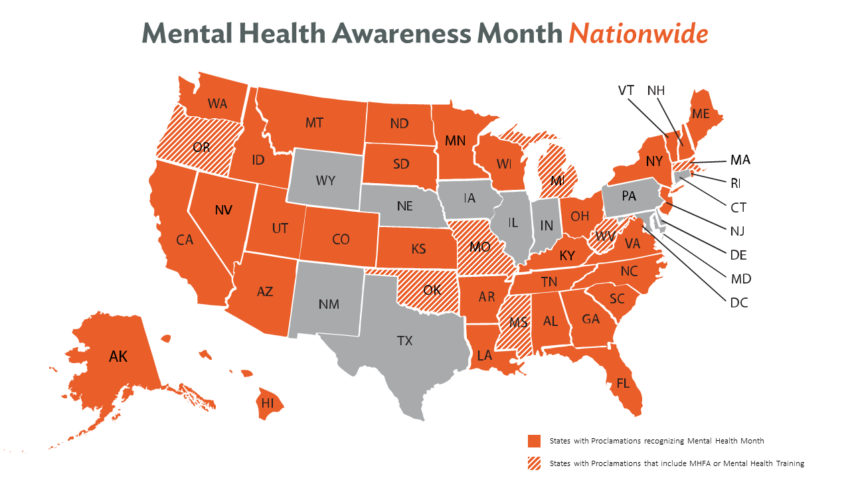 This May – and throughout the year – let's continue to work together to bring awareness to mental health and substance use challenges. The louder our voice, the bigger our impact.
Guest Author
Nicholas Thomas

Director of Content Marketing
National Council for Mental Wellbeing