988 Playbook for Mental Health and Substance Use Disorder Providers
April 20, 2022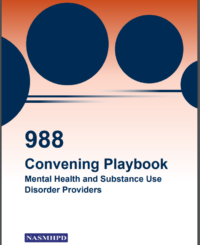 SAMHSA, in co-sponsorship with NASMHPD, convened with national partners across critical working sectors involved with 988 to help advance 988 planning efforts at the state and local levels. These national-level meetings brought together states, territories, and tribes; crisis contact centers; public safety answering points; and behavioral health providers to exchange resources and best practices for facilitating the 988 transition.
As part of these efforts, SAMHSA also collaborated with national partners to create playbooks and other guidance documents to assess and improve the operational readiness of these critical groups to support implementation of 988. 
Goal. The document sets out to help MH & SUD providers ("providers")
Articulate the need for operational readiness for 988
Prepare for the 988 transition (not a specific mandate for them)
Explain how to make progress on the criteria that are central to 988 readiness
Identify best practices and examples seen in the field today
Audience. The document is written for executive leadership (e.g., CEO and/or Chief Clinical Officer) of a community behavioral health provider (e.g., Certified Community Behavioral Health Clinics (CCBHCs), Community Mental Health Centers (CMHCs), or similar) that provide MH and/or SUD services and treatments. These organizations may provide a range of services including mobile crisis services, crisis receiving and stabilization services, psychiatric emergency / urgent care facilities, SUD services, and/or outpatient facilities.