COVID-19 Pandemic Impact on Harm Reduction Services: An Environmental Scan
February 4, 2022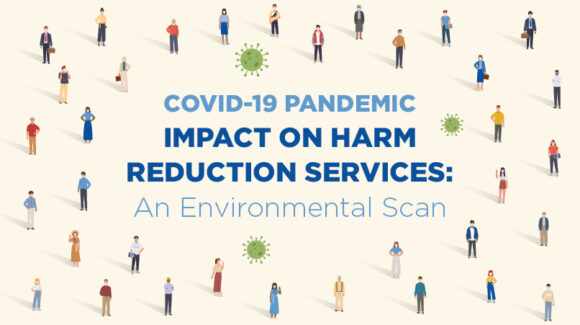 The COVID-19 pandemic has significantly impacted the overdose crisis in the U.S. and magnified disparities in access to health care, social services and other basic needs experienced by people who use drugs and people with substance use disorders. Overdose death rates are estimated to be 22.8% higher in July 2020 compared to July 2019. For decades, harm reduction organizations have provided essential, nonjudgmental services that promote safer drug use, prevent overdose death, link people to treatment and recovery supports, and support holistic health. During the pandemic, harm reduction organizations have faced substantial disruptions, and in some cases have had to suspend or terminate services. Despite these challenges, harm reduction providers have implemented a range of adaptations and innovations to continue supporting their participants while adhering to COVID-19 safety guidance for staff and participants.
To better understand the impact of the COVID-19 pandemic on harm reduction organizations and people who use drugs, the National Council for Mental Wellbeing, with support from the Centers for Disease Control and Prevention (CDC), conducted an environmental scan consisting of a literature review and 21 key informant interviews with staff from harm reduction organizations in the U.S.
Information collected through the literature and from key informants demonstrate that the pandemic has resulted in:
Increased health and social harms to people who use drugs.
Significant disruptions to harm reduction services and operations.
Innovative adaptations by harm reduction organizations to continue to serve the needs of participants.
Findings from the environmental scan are detailed in COVID-19 Pandemic Impact on Harm Reduction Services: An Environmental Scan.
For more information please contact Shannon Mace at ShannonM@TheNationalCouncil.org.
This publication was made possible by grant number 6 NU38OT000318-02-02 from the Centers for Disease Control and Prevention (CDC) of the U.S. Department of Health and Human Services (HHS) as part of a financial assistance award totaling $750,000 with 100% funded by CDC/HHS. The contents are those of the author(s) and do not necessarily represent the official views of, nor an endorsement by, CDC/HHS or the U.S. Government.