The COVID-19 pandemic created challenges to all aspects of everyday life, including how and where we work. Mental health, substance use treatment and general health organizations experienced the impact of COVID-19 on three fronts: risks for exposure to the virus, transitioning quality care into a virtual/hybrid format and an increase in provider stress and burnout.
As we cross into year three of the ongoing pandemic, mental health care and substance use treatment remain essential as the demand for these services continues to grow. Unfortunately, most agencies that are providing these services, such as COPE Community Services, Inc., are faced with workforce barriers like recruitment, retention, stress and burnout. Now, more than ever, it is vital for a workforce to have tools and resources to increase its wellbeing and ability to deliver services to those most in need.
Did you know wellbeing is a skill that can be learned and strengthened? As an organization that recently joined the Workforce Innovations in Integrated Care Learning Collaborative, hosted by the Center of Excellence for Integrated Health Solutions (CoE-IHS), COPE Community Services identified and implemented new ways to improve wellbeing among their workforce.
Who we are: COPE Community Services, Inc.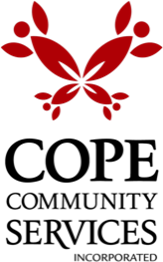 COPE is a private, nonprofit health care organization that creates pathways to better health by offering innovative solutions for behavioral and physical health care, wellness and recovery to individuals and families.
COPE utilizes an integrated health care approach that takes the body, mind and spirit connection into consideration.
Our Workforce Solution – Healthy Minds @Work and the Wellbeing Challenge
The Healthy Minds @Work program, founded by world-renowned neuroscientist Richard Davidson, Ph.D., is evidence-based and focuses on a step-by-step, habit formation process through a downloadable app.
This science-based program is designed to strengthen wellbeing skills with a 30-day Wellbeing Challenge that guides participants through four different pillars of wellbeing: awareness, connection, insight and purpose. The program assesses individual wellbeing before and after the challenge, allowing participants to compare their scores and the impact of the 30-day initiative. The activities include a weekly email with tips, podcast-style lessons and both active and seated guided meditations to fit a variety of lifestyles.
Accomplishments
COPE had 230 participants join the month-long, incentivized challenge. More than half the participants completed the challenge within the timeframe of the collaboration, by completing their second assessment. The results were encouraging in all areas. Participants' "sense of community at work" increased by 5% and the analysis from Healthy Minds reported a decrease in stress and burnout as well as an increase in overall wellbeing for participants who completed both the before and after assessments.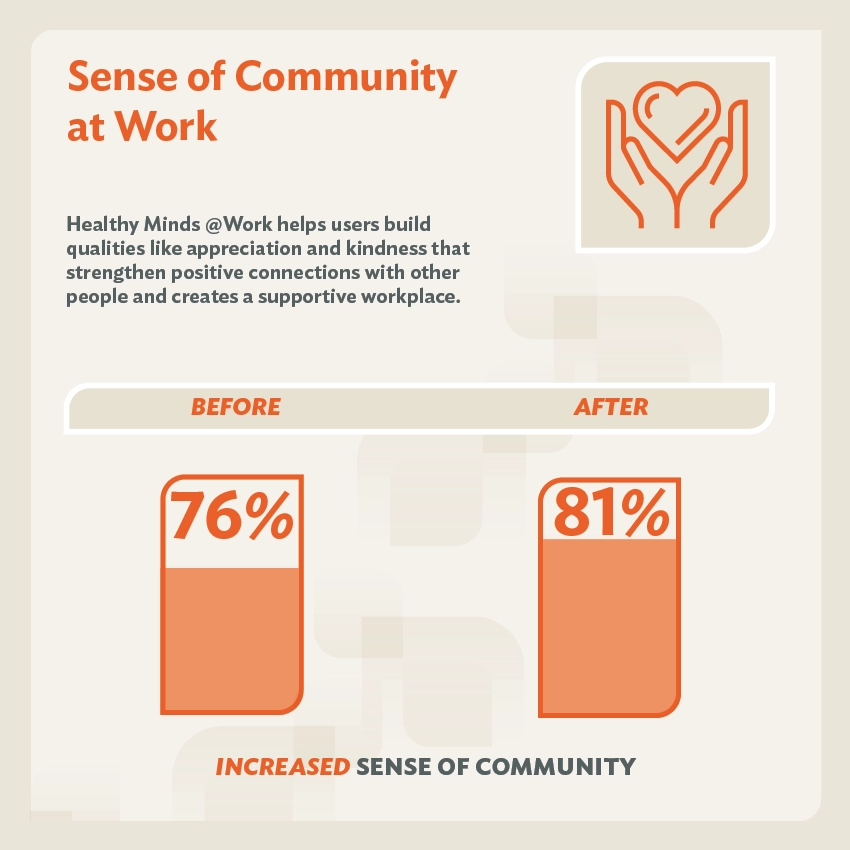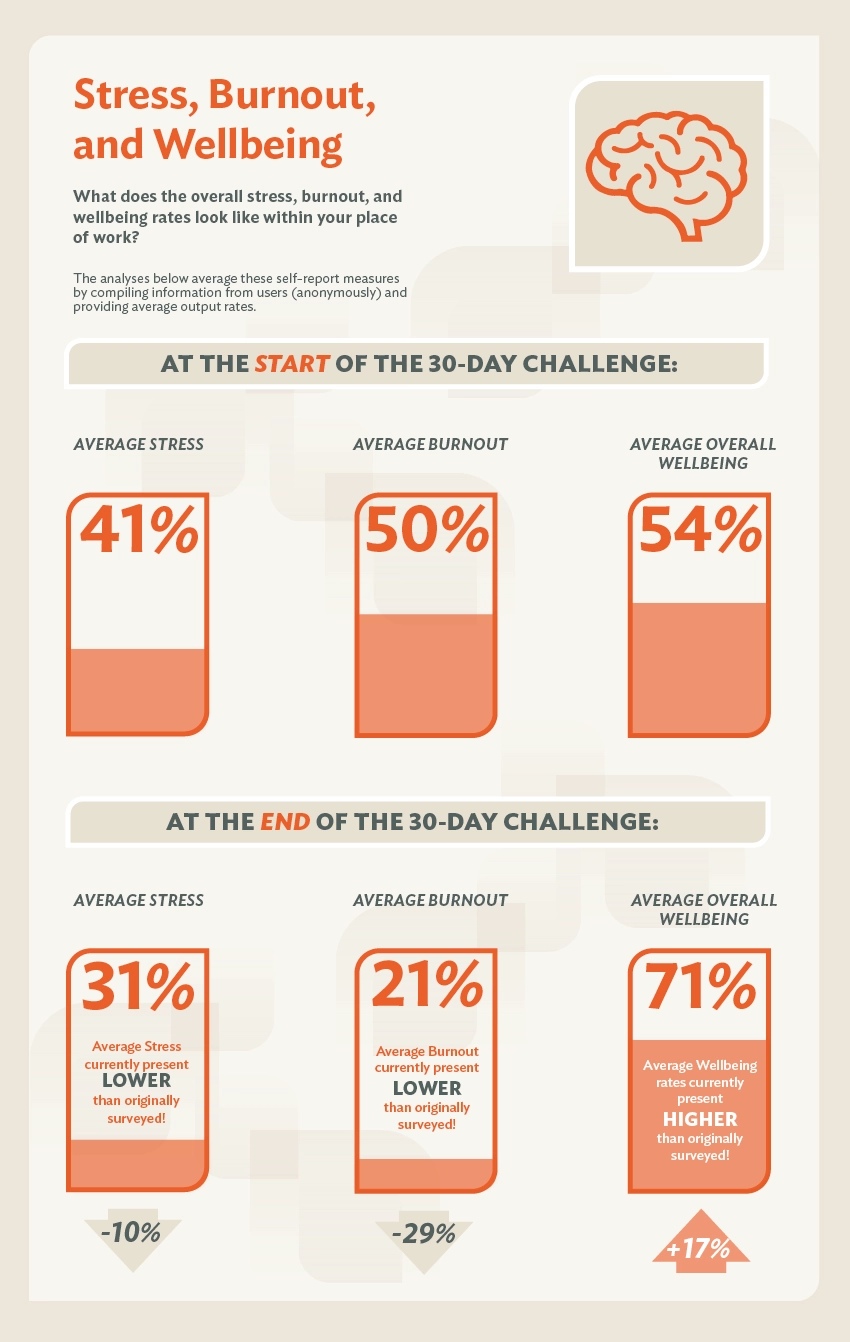 Lessons Learned
The Wellbeing Challenge is a great strategy to introduce to an organization looking to prioritize the wellbeing of their staff. Healthy Minds @Work was an innovative way to introduce healthier habits to staff, while encouraging a new shift for individuals as well as the organization.
Incentives were offered to increase participation and encourage staff to join in the challenge. A $50 dollar gift card to Amazon was provided as an incentive for participants who completed the second assessment within a week after the 30-day challenge ended. The participants received a certificate from Healthy Minds that they could share with the COPE contact person for the initiative to claim their gift card.
Continuous promotion of the initiative using internal communication tools increased awareness and active participation.
Participants were encouraged and able to access the platform while at work, allowing for meditation and moments to reset and reflect.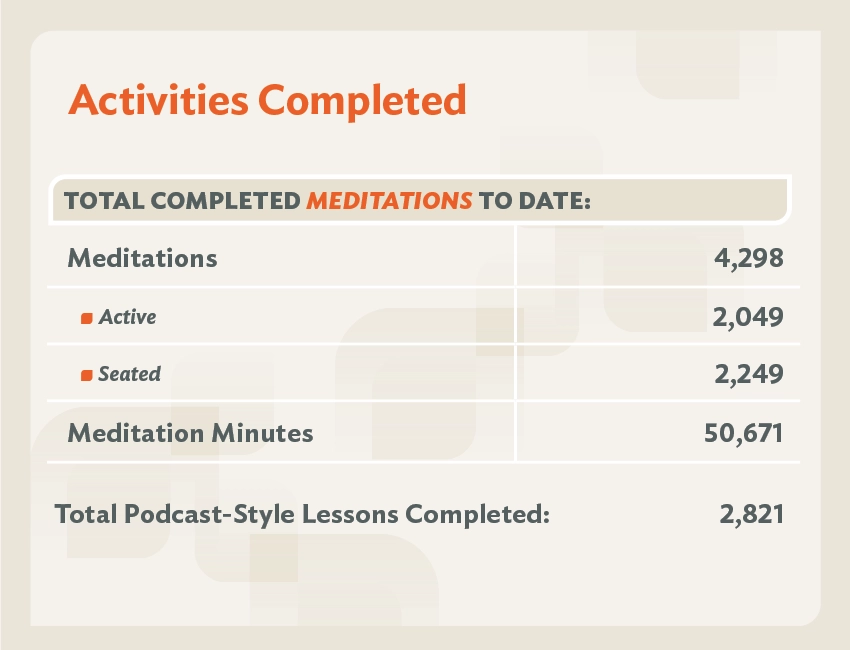 Collectively, participants completed a total of 50,671 meditation minutes. A crucial step in implementation and promotion of the wellbeing challenge was buy-in from leadership. Leadership began the challenge first, became familiar with the platform and encouraged meditations at work activities with their team. This created an opportunity to increase awareness of the workforce's wellbeing as part of the organizational culture.
Sustainability
COPE will continue its partnership with Healthy Minds @Work through May 2023, giving access to all current and newly hired employees to continue to strengthen the wellbeing of those utilizing the app and its activities. Additionally, quarterly learning labs, courtesy of Healthy Minds @Work are promoted in COPE's newsletter. The Learning Labs cover a different topic surrounding mindfulness, meditation and other areas of increasing wellbeing. The @Work activities through the mobile platform continue to be part of team meetings, which helps the sustainability of this initiative, integrating workplace wellbeing into COPE's culture.
Next Steps for COPE
The initiative was successful in creating an opportunity to strengthen workplace wellbeing, decrease stress and burnout and increase sense of community — which supported realigning staff purpose and the importance of our mission to the community. The success of the wellbeing challenge further improves the health of our workforce, both physically and mentally. A healthy employee is less likely to call out and miss work, impacting the quality of care to patients. This approach decreased burnout and stress while simultaneously increasing the sense of community. Teams that feel supported and revitalized have an improved sense of the organization's mission and purpose, which helps to improve the quality-of-care patients receive and leads to positive outcomes. Feedback from participants was positive:
I have a more positive outlook on what I do for others that I serve. I know know that I want to be here doing what I do for a living, and I leave daily feeling like I did my very best to make a difference with whom I help daily!

COPE Healthy Minds @Work Participant
I do feel more centered.

COPE Healthy Minds @Work Participant
Getting more sleep, less stress.

COPE Healthy Minds @Work Participant
Three months after the challenge concluded, participants continue using the mobile platform in both their work and personal lives. One participant noted that it was one of the best tools the organization has provided in conjunction with its wellbeing initiatives. COPE will continue to strengthen workplace wellbeing with innovative approaches and remain an essential component of organizational culture.
Thank you to the CoE-IHS Learning Collaborative for the support and opportunity.
Visit Healthy Minds @Work for more information about employee wellness programs.
This series of guest blog posts highlight the voices of participants in the Workforce Innovations in Integrated Care Learning Collaborative, hosted by the CoE-IHS. To learn more about this collaborative and read other blogs in this series, visit our website.
Guest Author
Siobhan O'Boyle, MBA, CPHQ, CPC
Chief Compliance and Operations Officer
COPE Community Services, Inc.