The COVID-19 Scalable Solutions Learning Collaborative, hosted by the Center of Excellence (CoE) for Integrated Health Solutions, started as a pilot project borne of the need to respond to the crisis exacerbated by the COVID-19 pandemic. Since that time, it has established new pathways – from telehealth services and safety protocols to virtual wellness tools to establishing integrated solutions among some of the nation's most vulnerable populations and communities. This is the final part of a three-part series where community health centers share lessons learned and actionable solutions to support an inpatient residential community.
To overcome the barriers to accessing mental and behavioral health services experienced by many within the Latino and immigrant community in Southwest Florida, especially during the COVID-19 pandemic, Catholic Charities, Diocese of Venice, Inc., in Venice, Fla., a participating site in the CoE's collaborative, developed a solution that prioritized bi-lingual and bi-cultural outreach and service provision within their community.
So much has changed since COVID-19 first affected us in March. We were sent home with basic instructions on offering telehealth services to the economically, culturally and racially diverse population we work with. Telehealth was not a mode of delivering therapy that we had used before and there were challenges in delivering services to both our young and older clients.
The Hispanic population we work with is very diverse. A large portion of our clients speak only Spanish; the COVID-19 Scalable Solutions funds allowed us to reach additional clients, and of those clients, about 42% received services in Spanish. However, we also work with Latino people for whom Spanish is a second language, with an indigenous language being their first. Besides language, technology access varies too. There are wealthier Latinos whose challenges in using telehealth services are similar to that of our White, non-Hispanic clients. Some clients have experience with technology and have the means to afford it, while others have limited experience and may only possess a smartphone, if that.
The COVID-19 Scalable Solutions Learning Collaborative funds allowed us to provide virtual and in-person psychotherapy to adults in seven counties and children in six counties in the Diocese of Venice, which we would not have otherwise been able to serve. The additional funds allowed us to be effective and creative in reaching many within our diverse Hispanic populations, which taught us a lot over the last several months. For instance, we learned the importance of connecting individually with every active client to assess their willingness and ability to continue therapy virtually, through the phone or computer. Our bilingual staff worked closely with each client to identify the devices that the families had and assist them with internet connection and utility.
Often, families needed assistance with things such as downloading Google Chrome so they could access the online platform, Doxy.me in this case, to utilize our virtual services. Initially, we sent written instructions but soon found that it was more effective to send pictorial instructions and to walk through them individually with clients, if needed. We asked some of our older clients and those who were not accustomed to technology use if there was a teen or a child who could help the family member set up their equipment to use with ease. With some clients, we practiced before a session to increase their comfort level. We also quickly learned that if clients logged on and there were sound or camera issues, it meant they were accessing the telehealth platform outside of the preferred browser when using Doxy.me, which is Google Chrome. When this happened, we called clients and often used the phones and computers to ensure that sessions could be completed, especially in the early days.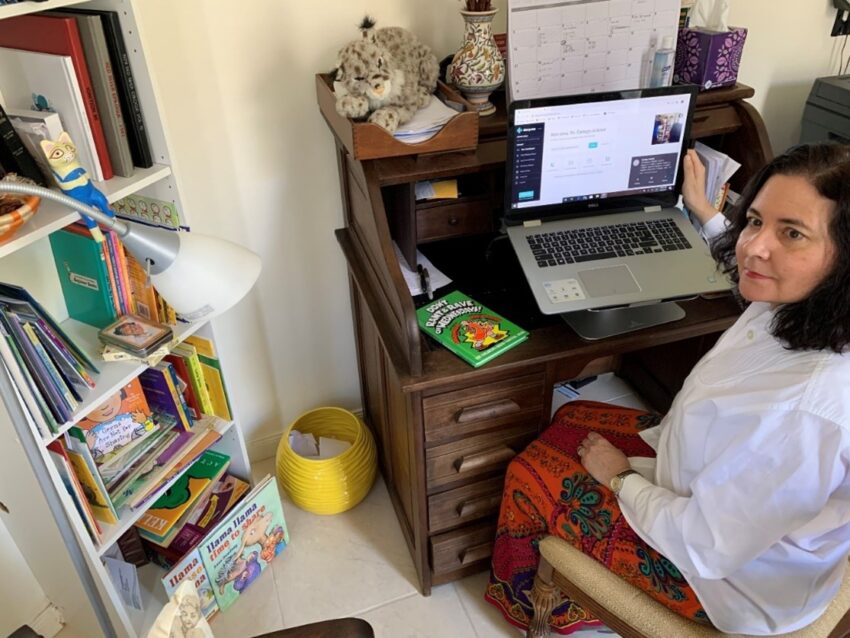 Now that our clients have been using virtual services for months, things are flowing more smoothly. Our clients and we are more aware of the glitches and how to address them, so admissions are being completed more seamlessly, although they are still more complicated than in-person. Clients and clinicians both know how to adjust cameras and microphones. Clients know that if they receive a call on their phone, it will interfere with the session because it usually removes the sound and disconnects the session. Clients know to sign back in to restore the connection or they set their phone up not to receive calls.
There were also some key takeaways:
Client access to reliable technology and consistent internet connection varies and must be planned for an individual client or household basis.
Client technology literacy varies by language skills, technology comfortability and age within households. Identifying household members who can assist client with setting up telehealth access is worthwhile.
It is helpful to use both phones and computers during sessions, especially initial sessions, to ensure sessions can be completed through different means, if needed.
Providing telehealth to younger children must be considered carefully and caregiver involvement is helpful.
Planning for the transition to telehealth and providing assistance are important factors to improving client comfortability with transitioning to or starting telehealth sessions.
Through October of this year we have been able to provide 111 Spanish language therapy sessions, 38 sessions to children and adolescents and 73 to adults ages 18 and older, through a combination of telephone, video and in-person sessions. In total, we have offered 258 in-person, telephone and video sessions and welcomed 50 new clients. During this ongoing pandemic, we are constantly researching and sharing new therapeutic techniques that are adaptable to telehealth counseling as a team and our learning continues as we try to provide quality services to our underserved populations.
Marta Gallego Adkins, Ph.D., is an experienced bilingual psychologist of Colombian descent. Before residing in Naples, Fla., she worked at the Village for Families and Children in Hartford, Conn., where she completed her pre-doctoral Internship and post-doctoral training. She earned her master's and doctorate degree in counseling psychology from Colorado State University. Prior to working at Catholic Charities, she was in private practice in Naples. She was thrilled when a position opened up in 2007 at Catholic Charities because it gave her the opportunity to work with a more diverse community population. While it can be challenging to meet client's needs through telehealth, she has embraced the opportunity that it has given her to find unique ways of reaching the clients, especially younger children.
Guest Author
Marta Gallego-Adkins Ph.D.
MPsychologist
MarCatholic Charities, Diocese of Venice, FL