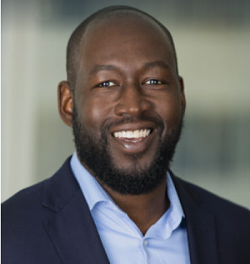 Integrating mental health and substance use treatment into primary care is both possible and powerful. As an integrated care consultant for the National Council, Aaron Williams, MA, helps set organizations up for success. In this interview, he talks about his journey to the National Council, his training and technical assistance background and the joys of helping organizations elevate their service delivery.
What were you doing before you joined the National Council?
"Prior to arriving at the National Council, I worked for a small nonprofit in Maryland where we offered training and technical assistance for addiction treatment providers in a five-state radius. We would train clinicians and programs in evidence-based practices related to substance use disorders (SUD). I did a lot of the research and evaluation, organized the trainings and led some of the technical assistance efforts. While I enjoyed the work I was doing, I was looking for a change.
"When I saw that the National Council had been awarded a grant to provide technical assistance for mental health and substance use treatment organizations that were integrating primary care services, I was interested. I asked if they needed anyone with SUD expertise – they were just getting the project up and running – and after some back and forth, I was hired. That was 10 years ago! In that time, I have done a lot of work around integrated care and substance use treatment, which eventually morphed into doing consulting work."
What are your areas of expertise as a consultant?
"My area of expertise is primarily in substance use issues, especially around workforce development. That includes training the mental health and substance use treatment workforce to be able to identify and engage in substance use services – from prevention and early intervention to harm reduction and formal treatment services. Also, in the past decade at the National Council, I have done a lot of work on the integration of addiction treatment into primary care services. We wrote a consensus panel paper on it in 2013 that looked at several addiction treatments programs that integrated primary care services."
How would you describe your consulting style?
"I bring a pretty broad knowledge spectrum when it comes to addiction services, and I have a deep understanding of the clinical and policy issues that concern people in terms of how they conduct their day-to-day work. I listen to – and seek to learn about – the problems in an organization as they attempt to implement SUD services or improve their existing offerings. I recognize that these are people-driven organizations and you have to understand what the people are experiencing. I know this field can be both challenging and rewarding and I bring experience where I can acknowledge those things."
What would people be surprised to learn about SUD treatment?
"That recovery and related treatment approaches work – people engage in long-term recovery every day. While there aren't a ton of evidence-based practices around SUD, there are far more than people think. In 2016, the U.S. Surgeon General's website shared "Facing Addiction in America," a compendium of evidence-based practices related to substance use issues. And in 2018, they shared an updated one focused on opioid use disorder. Both publications offer knowledge from across the field and highlight substance use services in full continuum."
What do you enjoy most about your job?
"I enjoy talking to people in organizations about the work they're doing on the ground. The level of insight and knowledge you get from engaging with people who are in it every day, it's really helpful. Those 'a-ha' moments and nuggets of change they're able to implement are inspiring. For example, we worked with an organization for years to upgrade and improve their services. As we wound down our support, we found they were able to implement a lot of what we were doing. They started building a new facility that was fully integrated and now they are moving toward becoming a Federally Qualified Health Center. Part of that accomplishment had to do with their stick-to-it-ness, but also the technical assistance we provided – it helped create a spark for them. Seeing organizations we work with go on to pursue broader mechanisms for integration is truly rewarding."
What do you like to do for fun when you're not working?
"I'm a big movie fan! My favorite film is 'Indiana Jones and the Raiders of the Lost Ark.' Indiana Jones is the greatest combination of intellect, nerdiness and athleticism that has ever been put forward on screen. I also enjoy listening to podcasts on long walks. I'm a sucker for a good story."
Guest Author
Nicholas Thomas
Director of Content Marketing
National Council for Mental Wellbeing