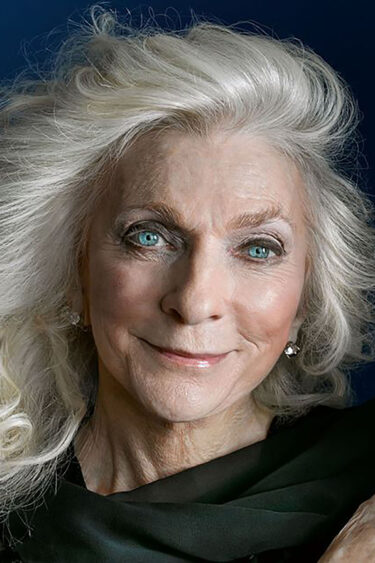 Judy Collins
Legendary Musician,

Judy began her impressive music career at 13 as a piano prodigy dazzling audiences performing Mozart's "Concerto for Two Pianos," but the hard luck tales and rugged sensitivity of folk revival music by artists such as Woody Guthrie and Pete Seeger seduced her away from a life as a concert pianist. Her path pointed to a lifelong love affair with the guitar and pursuit of emotional truth in lyrics. The focus and regimented practice of classical music, however, would be a source of strength to her inner core as she navigated the highs and lows of the music business.
In 1961, she released her masterful debut, A Maid of Constant Sorrow, which featured interpretative works of social poets of the time such as Bob Dylan, Phil Ochs, and Tom Paxton. This began a wonderfully fertile thirty-five year creative relationship with Jac Holzman and Elektra Records. Around this time Judy became a tastemaker within the thriving Greenwich Village folk community, and brought other singer-songwriters to a wider audience, including poet/musician Leonard Cohen – and musicians Joni Mitchell and Randy Newman. Throughout the 60s, 70s, 80s, 90s, and up to the present, she has remained a vital artist, enriching her catalog with critically acclaimed albums while balancing a robust touring schedule.
On September 18, 2015, Judy will release her first studio album in four years, Strangers Again. She invited a cast of icons and young talents to sing with her on this fresh collection, from Willie Nelson, Jackson Browne and Jeff Bridges to Glen Hansard, Ari Hest and Bhi Bhiman. Judy delicately soars over a revitalized "Send In The Clowns" and breathes new life into "Hallelujah." She puts her indelible touch on songs by Leonard Bernstein, Randy Newman, James Taylor and more.
In 2012 she released the CD/DVD Judy Collins Live At The Metropolitan Museum Of Art which aired on PBS. This special television program was nominated for a New York Emmy and won a Bronze Medal at the 2013 New York Festival International Television & Film Awards. Based on it's success, in 2014 she filmed another spectacular show in Ireland at Dromoland Castle. Live In Ireland was released in 2014. This program also won a Bronze Medal at the 2014 New York Festival International Television & Film Awards and the program will broadcast on PBS in 2014 and 2015.
Judy has also authored several books, including the powerful and inspiring, Sanity & Grace. For her most recent title, the memoir Sweet Judy Blue Eyes: My Life in Music, she reaches deeply inside and, with unflinching candor, recalls her turbulent childhood, extraordinary rise to fame, her romance with Stephen Stills, her epic victories over depression and alcoholism, and her redemption through embracing a healthy and stable lifestyle and finding true love with Louis Nelson, her partner of 30 years. In addition, she remains a social activist, representing UNICEF and numerous other causes. She is the director (along with Jill Godmillow) of an Academy Award-nominated film about Antonia Brico – PORTRAIT OF A WOMAN, the first woman to conduct major symphonies around the world–and Judy's classical piano teacher when she was young.
Judy Collins, now 76, is as creatively vigorous as ever, writing, touring worldwide, and nurturing fresh talent. She is a modern day Renaissance woman who is also an accomplished filmmaker, record label head, musical mentor, and an in- demand keynote speaker for mental health and suicide prevention. She continues to create music of hope and healing that lights up the world and speaks to the heart.